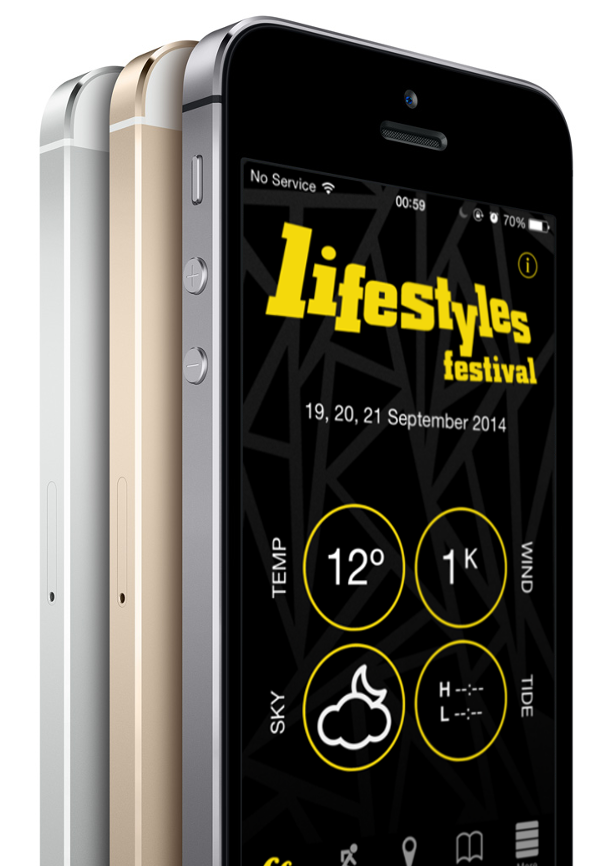 I've been working with Lifestyles Festival for some time now, but the thing that sparked my involvement was discussions of developing an iPhone app. It's been a long time coming, but the first release is here and ready for some prime time attention. Though, as details about the 2014 festival come to light – the app will be updated to reflect that.

I worked with @SteveGoreRowe at Lingo Design, he's Lifestyles identity mastermind and general design Jedi, to design a really slick interface for the app. Everyone says they love it. While @LingoLiz, the Lifestyles Committee Chair, set the fundctional requirements and helped with the app's content.
The project's priority on my todo list rose and fell as other aspects of the festivals organisation took centre stage. Everyone was always keen to see it progress though, and the Lifestyles Committee was really pleased when I announced at a meeting that the app was live the the App Store.
Featuring live Hunstanton weather updates, information about the activities available at the festival, a map of noteworthy Hunstanton places, the latest news from Lifestyles Festival and Lifestyles Association, and much more – the Lifestyles App is not only vital for Lifestyles Festival, it's a handy tool for Hunstanton-ers all year round.
Apple and the Apple logo are trademarks of Apple Inc., registered in the U.S. and other countries. App Store is a service mark of Apple Inc.