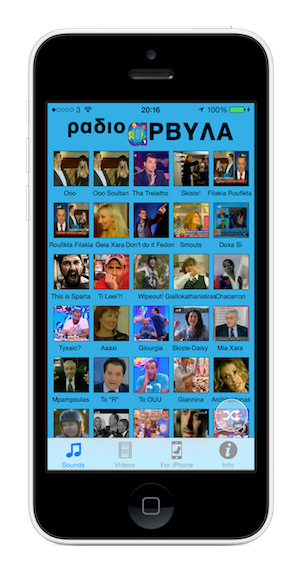 The Radio Arvyla iOS application allows fans of the Greek show, Radio Arvyla, to enjoy highlights of the show. Features include; a soundboard of funny quips, a video section showcasing the shows segments, and downloadable iPhone wallpapers, with more coming soon.

Antonios of TonikGR Development drafted my services to help him take his already successful app to the next level. Together, our main goal is to make the app profitable, so my main contribution has been to add In-App Purchasing features including the ability to pay to remove adverts and to buy access to a premium section of the downloadable iPhone wallpapers. I am also optimising the apps code and simplifying it to help with future maintainability. All of which has been achieved and pushed to the App Store in the latest version. Antonios and I are planning to continue to work together to further improve the Radio Arvyla app.
I will update this page with further developments I make with Antonios on the Radio Arvyla app.
Apple and the Apple logo are trademarks of Apple Inc., registered in the U.S. and other countries. App Store is a service mark of Apple Inc.