Other than my final year project, this will be the last University module's coursework I'll be writing about (I'm so close to the end). This module builds upon the previous simple client server work and teaches advanced 'distributed computing' techniques such as Remote Method Invocation, along with SOAP and RESTful web services.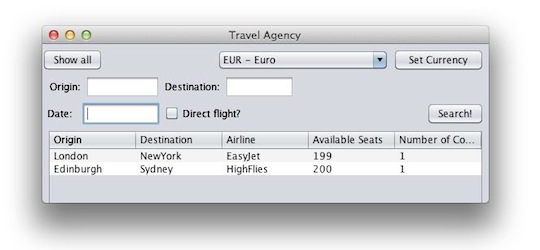 The coursework element tasked us to create two web services, one to implement core travel agency services, and a second to consume the aforementioned web service along with a currency conversation service too. Along with this back-end code, we were asked to produce a client interface, GUIs getting higher marks.
I successfully implemented almost all of the requirements allowing me to achieve a First for that section.
The second half of the coursework element tasks us with designing, carrying out, and analysing an experiment to test the Quality of Service of the Web Services created. Also we were asked to research and analyse certain aspects of The Semantic Web for web service composition. I'm not a strong believer of the flavour of semantic web technologies covered which caused me to put little effort into that part of the report which dragged my marks down to a 2:1. But, overall the weightings of different sections meant that I still achieved a First.
For those interested, as usual, I version controlled my project on GitHub so you can look at the Web Service code on there. If you're interested in the QoS experiment and my Semantic Web Service Composition report, or any other aspects of this project, I'll be happy to email you if you ask.